Fusion Tech LLC.
PROJECT CONTENT – Fusion Technology LLC. Start-up Company focusing on expanding its technology services that require an intelligent platform highlighting their unique value propositions.
DESIGN CHALLENGE – Being a tech-savvy user myself, I empathize with my users and understand their emotions and concerns in choosing high-quality IT services. My challenge is to design a product that will genuinely help people find what they are looking for in a short period of time.
PROBLEM STATEMENT – Tech-savvy user needs who lack time and budget need a resourceful platform that would provide an affordable, competent, and qualified tech support service for their professional team in order to improve the quality of technological experiences and productivity of the group.
MY ROLE – Product Designer
COMPANY – Fusion Tech LLC. 
TIMELINE – Jan 2018 – May 2018

DESIGN PROCESS
RESEARCH 
I have collected data from the most efficient IT service companies (Charlesit, Evernet, Technotime Business Solutions LLC, etc. ) to learn more about their mission, strategies, strengths and weaknesses, and conducted user interviews to gather valuable information about their current needs, motivation, and painpoints.
Exploring innovative solutions for the potential platform and delicately merging the chosen ideas in one to design the best product for this content wouldn't be possible to accomplish without the design thinking methods (mind mapping, priority matrix and combining ideas) and UX best practices.
PERSONAS
USER JOURNEY MAP 
INFORMATION ARCHITECTURE/SITE MAP 
PAPER PROTOTYPES
ATOMIC DESIGN
MID-FID WIREFRAMES
STYLE GUIDE
USABILITY TESTING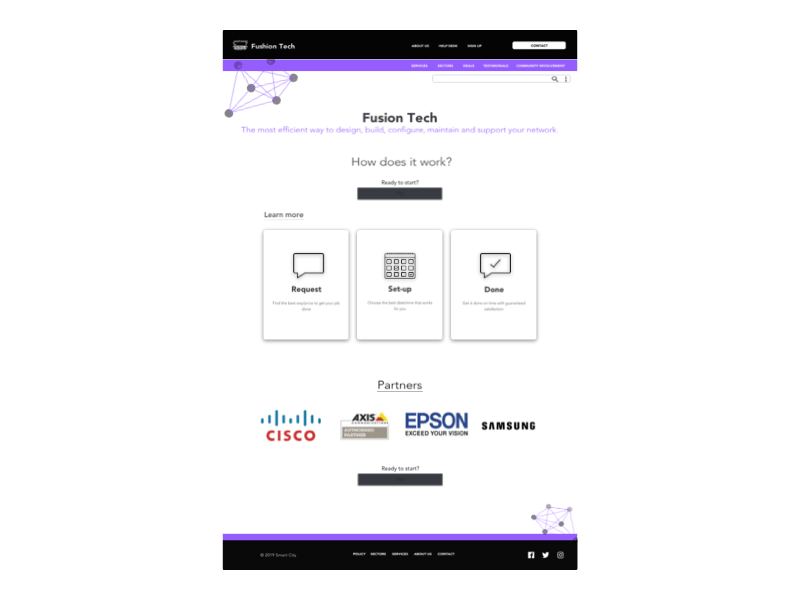 ITERATIONS / SOLUTIONS 
.               .
POLISHED DESIGN